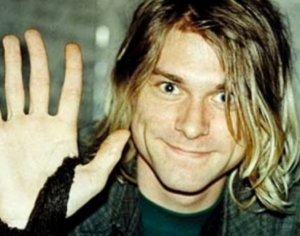 Today marks 25 years since Kurt Cobain, the lead singer of Nirvana, died. He was 27 years old. There have been documentaries, movies, and books written about his life, but how can you remember Cobain today?
The New York Times has complied a list of ways you can honor the late musician today.
Books
'Journals' (Riverhead)
With nearly 300 pages of photo replicas of Cobain's personal journals and letters (and doodles, sketches and song lists), this 2002 book is funny, painful and shockingly intimate: a guided tour of the singer's own churning psyche. "Its hard to decipher the difference between a sincere entertainer and an honest swindler," Cobain wrote. Here's what The New York Times's Neil Strauss wrote when the book came out.
'Come as You Are' (Three Rivers)
This deeply reported 1993 biography by Michael Azerrad, first published while Cobain was alive, was the original bible for Nirvana fans. Its strongest passages evoke the life of young Cobain in Aberdeen, Wash., a child of divorce who would sometimes spend the weekend killing time at a local logging company where his father worked: "He would get into his dad's van and listen to Queen's 'News of the World' over and over again on the eight-track. Sometimes he'd listen so long that he'd drain the battery and they'd have to find someone to jump-start the engine."
'Heavier Than Heaven' (Hachette)
Charles R. Cross, formerly the editor of the Seattle music paper The Rocket, covered the Nirvana story from early on — and conducted over 400 interviews for this thorough, definitive 2001 biography. Cobain's widow, the musician Courtney Love, granted Cross extensive interviews and access to Cobain's archives, including arcana such as a visual assignment he completed during his final stay in rehab: "For 'surrender,' he drew a man with a bright light emanating from him. For 'depressed,' he showed an umbrella surrounded by ties." Read The New York Times review.
Articles
'Takeoff: The Oral History of Nirvana's Crossover Moment' (Cuepoint)
When Nirvana's "Nevermind" hit No. 1 soon after its 1991 release, it shocked the band members and their grunge cohort, who had assumed that at best, the group would be underground heroes. Its multiplatinum success also opened the doors for many Nirvana-bes. This oral history by Nick Soulsby tells that story from the viewpoint of Nirvana's college-rock peers, such as Gary Floyd of opening act Sister Double Happiness remembering Nirvana's "road manager telling everyone backstage one night the CD had hit 1 million sales that day. They seemed almost embarrassed."
'The Dark Side of Kurt Cobain' (The Advocate)
Cobain loudly and frequently declared himself as an ally of gay people (and women, and people of color), so it was fitting that he gave one of his best interviews in this 1993 cover story with The Advocate, telling Kevin Allman, "I've always been a really sickly, feminine person anyhow, so I thought I was gay for a while because I didn't find any of the girls in my high school attractive at all."
'Kurt Cobain, The Rolling Stone Interview: Success Doesn't Suck' (Rolling Stone)
In Cobain's last major interview, he informed David Fricke that he had wanted to call Nirvana's "In Utero" album "I Hate Myself and I Want to Die," "but I knew the majority of the people wouldn't understand." He insisted that the suicidal sentiment was only a joke: "I'm a much happier guy than a lot of people think I am."
'Never More' (The Village Voice)
After Cobain's death, Ann Powers filed a raw dispatch from Seattle, reporting how the tragedy affected his friends and the neighbors who had never met him. "The kids I found who did mourn Cobain, hovering behind police lines at the house where he'd died or building shrines from candles and Raisin Bran boxes at the Sunday night vigil organized by three local radio stations, seemed to think of him more as a lost friend than as a candidate for that dreaded assignment, role model."
Live Videos
'Nirvana — The Moon, New Haven 1991'
On Sept. 26, 1991, just two days after the release of "Nevermind," Nirvana played a great, sweaty show at a tiny club in New Haven — and miraculously, it was captured on this remarkably high-quality amateur video. The set featured just a few songs from the unfamiliar "Nevermind," leaning heavily on the band's 1989 debut, "Bleach." Cobain, the bassist Krist Novoselic, and the drummer Dave Grohl all performed with joy and abandon, looking more at home in a filthy black room with a low ceiling than they ever did in arenas.
'Live at Reading'
In the summer of 1992, when Nirvana played this storied U.K. festival, the band was divided by arguments over royalties and reports of Cobain's heroin habit. Responding to the mood, Cobain came onstage in a wheelchair, wearing a hospital gown and a blond wig, and began the set with an out-of-tune cover of Bette Midler's "The Rose." At the end of the show, the group systematically destroyed its equipment. In between, almost as an afterthought, it delivered an hour and a half of full-blast rock.
'Drain You'
When Jimmy McDonough, the author of the 2002 book "Shakey: Neil Young's Biography," wanted to show Young a live Nirvana performance after Cobain died, this 1993 clip from an MTV "Live and Loud" concert was the one he chose. "When you see the way he was," an impressed Young said, "there's no way he could ever get through the other end of it. Because there was no control to the burn. That's why it was so intense. He was not holding back at all."
'Nirvana — Munich, Germany'