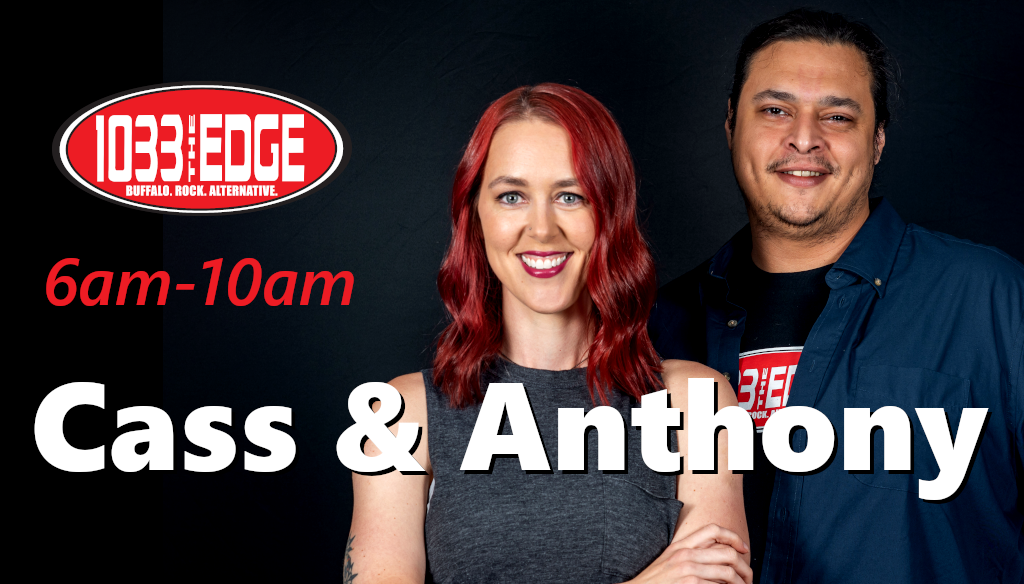 Get your day started with Cassiday and Anthony weekday mornings 6-10 on The Edge! It's a show about real life in Buffalo, comedy, pop culture, music, sports and more.
Meet Cassiday:
Hey. I'm Cassiday. Thanks for checking the show out! About me; I was born and raised in KC but have loved Buffalo for a long time. I even married a guy from here after our first date was watching The Bills at a Backers bar in Texas. We won that day and I've been hooked ever since. I love craft beer, live music, and I think Pizza Logs are the most perfect food ever created. My favorite radio moments include interviewing Jack White, rappelling down the side of a skyscraper for charity (twice), and giving birth on the radio (no, really. I did).
Meet Anthony:
I love to be out on the scene at live music or comedy shows, learning new ways to cook and adventures outdoors. I am a man of the people, I like meeting new people and seeing what makes them laugh!
Connect on Twitter:
@CassandAnthony
@RadioCass
@AnthonyUntamed
Call or Text:
716-952-9334
Be a part of Team Cass & Anthony and you could win a visit to your workplace with delicious Paula's Donuts! SIGN UP
Exploring Canandaigua and spots on the way there was THE perfect way to celebrate my anniversary with my husband last weekend.… MORE